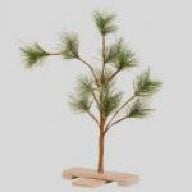 Joined

Jan 18, 2012
Messages

513
Thinking of you,
@ladyciel
.
Ha,
@April20
, just you wait until Boy (heehee) gets old enough to really move around. I've stopped feeling bad when Alec runs into stuff because it's just EXHAUSTING if I blame it on myself... we put some foam around strategically (not as much as I'd like, but he LOVES to rip it off things to chew on, or sometimes just to chew it while mounted on coffee tables, shelves etc., so preserving my sanity we did not carpet everything in foam) and beyond that I'm figuring he'll just, eventually, learn not to zoom around like a madman. On the plus side, I think he's becoming increasingly resilient, since he cries less and less - and gets back to whatever AMAZING SHINY THING he was heading towards - every time he falls. We're always there to offer hugs and sympathy but, yeah, I've stopped apologizing to him.
Photo of Alec chewing on yet another baby-thwarted move towards preventing him from smashing his head on the coffee table... daring me to take away his delicious new toy. I'm pretty sure it's organic free-range sustainably-harvested nitrite-free foam, so, you know, at least it's probably good for him.

Reminds me, I gotta order more corner-shaped foam pieces...