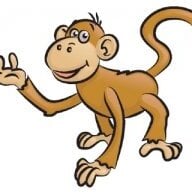 Joined

Nov 24, 2009
Messages

2,873
Hi all, it's been pretty quiet in here lately. Hope everyone and their little ones are doing well!

Things are going alright around here. I was out of town a lot the past two weeks, so I'm looking forward to a weekend at home with my boys. We have a full-fledged crawler now, and he is starting to do a bear crawl, which is hilarious.

We found out a bit of upsetting news today. For awhile, I've noticed Ev's back kind of looks crooked sometimes when he's bending over, but I didn't think much of it. One of his teachers at daycare noticed it and thought he had a bump or something, so she called to ask about it. I was out of town, so DH took Ev to the doctor yesterday, and the doc wanted him to have an xray to check his spine. He had that done today, and it turns out Ev has a bit of a curve in his spine and a few of his vertebrae (I think he said 2 or 3 of them) are smaller than normal. He said that he is not too alarmed because Ev doesn't seem to have any other signs of a genetic disorder or other syndrome, but he wants us to take him to orthopedic surgeon to evaluate and see what if any treatment he needs. I am hopeful that whatever the issue is, we will be able to treat it, especially since he is so young. I realize this is not that big of a deal compared to the serious illnesses or disorders some parents have to go through, but I'm feeling pretty upset about it.You carry and give birth to these helpless perfect little creatures that you love more than yourself, and the thought that anything might be wrong with them or that something might make their life harder in the future just kills you. Anyway, I'd appreciate any good thoughts or PS dust you have to spare for little Ev.

Again, I hope everyone and their little ones are doing well. Have a good weekend!