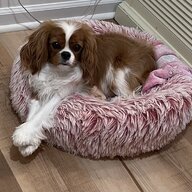 Joined

Aug 12, 2005
Messages

17,709
Hi ladies! Sorry to hear about all these babies having a hard time sleeping! A has been a pretty good sleeper for the most part, with the exception of a few weeks here and there where she wakes us several times at night wanting attention or a bottle. We appease her, of course, and then she falls back into a pattern of STTN again. I have no secrets, I think it's just the natural rhythm of life. It'd be all find and dandy if no one had to get up and work in the morning, but babies don't care about that!
I am enjoying a lovely three day weekend and had a joyful day yesterday just hanging out with Alex and running errands, then today got to spend some QT with my husband and dog and baby. The weather here has turned toward spring and it was nice enough out today that we all went for a short walk around the neighborhood. Good to get out and about. Afterwards, we called some friends who have a 6 mth old and 3 year old and they came over for the evening. Alex LOVED the 3 year old boy and climbed all over him which he was not too happy about. I had to keep pulling her off him. Shes so close to walking and was using him as a crutch, plus I think she really just likes other kids. We've never had her in daycare so every experience with other kids is new. She wanted to crawl all over the 6 m/o who looked exactly like Stewie from Family Guy and that was funny. The boys' parents thought it was all hilarious but I was somewhat embarrassed about her behavior. After they left my husband and I both agreed that we need to have more playdates so Alex learns how to not be a pain in the neck to other kids!
So, spring/summer is coming...I'm worried about A being out in the dirt and sun, bug bites, bee stings. What are you gals thoughts? I love being outdoors and want A to have free roam but am probably overthinking.
Lulu, OMG that tutu!!! Love it!
Here are some pics I took about a week ago. She's 9.5 months now! Yikes!