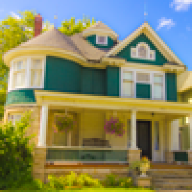 Joined

Mar 13, 2012
Messages

37
Promised someone I'd post this -- here it is
On our first date, we went wine tasting. After the second winery we saw a sign that said "new winery opening" and followed it. It was their first or second day of being open. They had a different take on the wine tasting from most of our local wineries... more like doing flights at a bar. They gave us a couple of wooden trays with 4 glasses in each one, and poured us all 8 of their wines, told us to take the tray and a dish of crackers out to the picnic table and enjoy the view of the lake and the hillside. It was a beautiful late-summer day (that happened to occur in October).
We were there a while, enjoying the view and getting to know each other, and one of the winery girls (the co-owner, as it turns out) came out and said something like... "I hate to interrupt, but you guys just look so great together! How long have you been together? We laughed a bit and my adorable redhead said "Actually it's our first date." The lady looked a bit embarrassed, and then recovered and said "wow, that's great... would you like me to take your picture?" (I had my camera out). We agreed, and she did. Then she went back inside, and after we sat down again, and my future fiancee grabbed me and kissed me to within an inch of my life. From there, we grabbed lunch, did some more wine tasting, grabbed dinner, and went to Lake Michigan to watch (and photograph) the sunset.  
We pretty much hit it off from day 1. At about 3 months together, she moved in with me, and a few days before our 7th month together, I told her that I was going to be extraordinarily kind and allow her to sleep in on a saturday morning instead of dragging her to an 8:30 AM breakfast at our local farmer's market cafe... instead, we'd go there about 10, and I'd go out and get my oil changed while she slept. She was prepared, but not enthusiastic about, the day of yard work and other chores I'd planned for us to do. Little did she know...
A few minutes before she was supposed to be getting up, I texted her and told her to look on the desk in my office, and to have fun.
What she found there, was a grey envelope with her name on it, with the number 7 in one corner. Inside the envelope were two sheets of grey stationery and a photograph. The first one read:
Hello, Shelly-bean!

Sorry, I won't be around today.

The plans we made? Forget 'em -- they're shot.

Instead, I'm hoping you'll be willing to run a few errands for me, speak with a few people, maybe pick up a couple of things here and there.

I guess you could call it a treasure hunt:

It may just end in diamonds.

But you can't hunt treasure on an empty stomach. First, you should hunt for breakfast.

If no one is waiting for you there, call xxx-xxx-xxxx to see what's up.

Love you,
Joshua
The second one read:
Rules of Engagement

Do not call me unless it's an emergency. This is a solo adventure for you. I'm just helping facilitate it.

Text me when you arrive at your destination, and again when you prepare to leave.

No cheating! Don't ask anyone about what happens next. Live in the moment and enjoy yourself.

Wear comfortable shoes, and take an umbrella in case it rains. Treasure hunts rarely occur entirely indoors.

Have fun! And don't give up until you find your treasure!
And here's the photo -- it's a photo of her shopping in the local Farmer's Market:
So she knew to go to the Farmer's Market for breakfast, as we'd planned to... but instead of finding me, she found my mother. They had breakfast together, chatted, and afterwards, looked around at the vendors, deciding what flowers to plant in the urns in front of our house. Finally, mom gave her the next envelope, marked with a 6. It had a note and a photo as well:
Hello, darling!

So you've had a delicious breakfast and your tummy is full. Fantastic!

But some people didn't get to go to breakfast.

Someone out there is still hungry.

Someone out there needs a snack.

Maybe you should pick something up?

Something yummy.

Something sweet.

Something square.

Any ideas?
The photo was of the Obnoxiously Pink Birthday Cake (caps for emphasis -- it's taken on a title now) that she'd ordered for her birthday recently, from her family's favorite bakery. They make apple square pastries there that her father is very fond of.
So, she said her goodbyes to my mother, and drove to the bakery. She gave the girl at the counter her name, and was rewarded with a pastry box, prepaid, with a half a dozen apple squares.... and envelope 5:
Hey there, beautiful!

What a wonderful idea! I'm sure they'll be most appreciated.

Why don't you go ahead and deliver them, now?

Don't mind the gnome. You know you're always welcome there.
The photo is of the gnome her dad has next to his house, informing visitors that they should visit someone else instead. Her dad likes to pretend he's a grumpy old coot. But he's very fond of apple squares, and of his daughter, so he agreed to help me out with the proposal.
She chatted with him for a bit, and he gave her envelope 4... and I think I've hit my limit for image uploads, so I'll reply to this to continue.