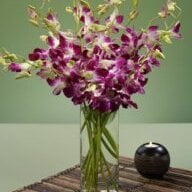 Joined

Dec 22, 2008
Messages

507
I know, I shouldn''t even go there, but lately I''ve been wondering if my BF might propose on Valentine''s Day. It''s exactly 2 weeks away and I''ve already started to imagine what i''ll be like to go back to work with a ring on my finger.
Last time I asked my BF what are game plan should be for gifts on V-day, he just ignored the question and skirted around it. I wanted to know if we should exchange items. (V-day isn''t a big deal for us, so we usually discuss). I don''t want to get my hopes up, but I didn''t understand why he didn''t just answer the question. When it comes to engagement talk I stay away from it, so I didn''t push any further. Plus, I know he''s working on it, so I try not to make him feel that I''m painting him into a corner. Obviously I could be totally off base, and with him I just never know. Maybe I''m just hoping.
Anyway, the question is, do you suspect that your guy might propose on V-day? Have you gotten hints?