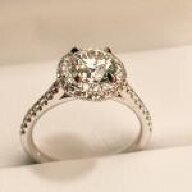 Joined

Dec 31, 2015
Messages

6
Hi All,
I just got my girlfriend's finished engagement ring in the mail (
B2C
diamond on a
James Allen
setting, couldn't be happier!) and am in the process of brainstorming some proposal ideas, I thought some feedback would be helpful.
I had this idea to pamper my girlfriend in a secretive way. Her and her mom recently went to a bridal convention show and I was going to have her mom make up a story that she won a giveaway for a 1 day royalty treatment and have her give it to my girlfriend. The fake giveaway would include personal shofer to get a facial, nails done, hair and makeup, and then take her to pick out a new dress to wear. The driver would say "I have one more special stop to make" taking her to the most scenic part of my city overlooking the cliffs and pacific ocean. The driver will hand her an iPad to watch a short movie I will make, including some memorable locations from our time together (where we first met, first date, first kiss, etc.) and then I will end the movie with me asking her to step out of the car to go to the lookout point, hopefully during a beautiful sunset. Here I will be waiting with a musician friend of mine who will be serenading us on the guitar with a song that is very special to both of us. After saying some meaningful words with the music in the background, I will get down on one knee and pop the question!
What do you guys think, too elaborate, too obvious? Obviously I know my girlfriend the best but I always enjoy getting feedback and hearing what other's impressions are.
Thanks for reading!