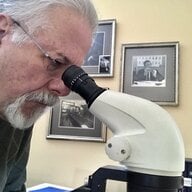 Joined

Sep 3, 2000
Messages

6,656
A romantic proposal story from the quiet middle of the USA, where the horizon stretches to the limits in every direction. Where little happens, yet life goes on. As told to me by a client who wanted to share.
There we were, at the main gathering restaurant in our little town near Interstate 70. It's where all the action is where we live. A couple motel chains, a Denny's, Cracker Barrel and McDonalds. McD's is the place where most of the action is. It's where the farming men gather most every morning or weekend day to have coffee and share agricultural news or future commodity prices. It's also where I met my sweetie, Mary Beth. We were both working the fryer when we met and as soon as I saw her wiping the oil spray from her glasses, I knew we were meant to be together.

After much time studying about diamonds on Pricescope, I finally found the right diamond and mounting from one of the great vendors here. It isn't a large diamond, but really a rather small stone compared to what I have read about, but it is a perfectly cut, round with F color and VS1 clarity and AGS000. So it is a beauty.

About 7pm last night I told Mary Beth to meet me at McDonalds. We both have such a feeling for the place where we first laid eyes on one another. Just as the sun got low on the horizon in all its fiery red glory, I pushed her cheeseburger and fries aside and knelt down on one knee. She looked at me with complete surprise. The smell of freshly cut hay lingreed in the air. I told her how I remembered where and when we met and that she had always been the one. I asked her to marry me and, of course, she said "Yes".

When the other folks eating in the restaurant and the staff behind the counter figured out what had just happened they all came over to congratulate us. We felt so very special. We topped off the evening with two famous McD chocolate milkshakes, the ones that refuse to ever melt. Yummy! What a great night to remember.
There you have it. Just the way I heard it told. Romance is everywhere. I bet this hardly ever happens at Denny's.