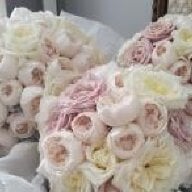 Joined

Jun 7, 2016
Messages

199
Hello!
My ER setting was an exact remake of setting that held a cushion. The prongs of the setting accentuated the cushion quite a bit now that I look back at it, and I never realized that when recreating it, it would make my round look a little square too.
Now that I've had my ER for almost 2 weeks, I'm feeling I'd like to change the prongs to a little more softer look to allow the roundness of the stone to show through more. I'm thinking when I have my eternity band made, I'll send in my ER, but I wonder how easy/complicated it would be to change?
The setting is in platinum, do you think they need to redo the whole setting? If not, would it be compromised in structure at all? Or do you think this style can even have smaller prongs? When looking at it, the prongs come up quite thick right from the bottom of the setting, I don't know how they'd adjust them smaller.
I'll attach the photos in the post below.