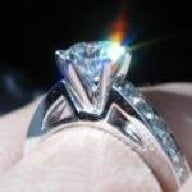 Joined

Mar 16, 2006
Messages

1,733
I am excited to report that this week we finally have some wedding progress. YAY! We decided on our DJ and received our STD magnets just today. We are also finalizing guest lists this week and getting an idea of what could be the maximum number to expect. We are looking at about 320 adults and children - WOW.

What is nice is that FI is handling a lot of the final additions on his side and he kept up his promise to help with the DJs. He is being so very conscientious about this and I really appreciate his assistance.
How about some pictures?

Here is what we have so far:
The start of all this from back in May



The church (FI was confirmed here)

The hall (the Polish Cultural Center in our area - we get a family discount and the food is AWESOME)

Our centerpieces (I want this one tier torte look, likely with fresh flowers to match bouquets on top)

Our STD magnets (these just came and we LOVE them, they are from
www.magnetqueen.com
)

Our DJ (she''s fantastic and will help us have a classy, fun party)
http://www.maprodj.com/
Our photographers are not online, but we have them booked too! D & D Wedding Photography out of Fenton, MI (friend of my mothers, GREAT prices and special attention)
My "Something Old" (family heirloom ruby and seed pearl ring)

My BM dresses (99% sure that this is the one that *I* want

, B2 dress in Periwinkle)

Flower colors (love these corals and apricots with the peri)

My dress (again, 99% sure that this is the one, still need to purchase this and it would need a few alterations)



Hope you enjoyed looking.