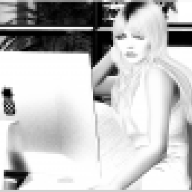 Joined

Jan 10, 2016
Messages

85
Yesterday I received the preloved
Ritani
3 stone/halo engagement ring, ordered by my BF. We agreed that we needed to look at it together before he officially gives it to me. He knows zilch about diamonds, plus it will need to be resized as it's extremely small - I believe it is a 4-1/2 and I'm a 7.
I'll start with the good. It's gorgeous. Seriously uber sparkly and in all light conditions we were able to view it in yesterday (LED, incandescent and diffused daylight) looked fantastic. Really white! It was graded as E-F and it for sure that's correct. It's dainty, not overly flashy considering all the smaller diamonds on the halo and band. The palladium makes it quite light - which I thought I might not like, but I do. The info said it was eye clean and indeed it is. Anyone would be hard pressed to see anything wrong with this stone unless it was under a loupe. It looks expensive - and I'm sure the previous owner paid a nice chuck of change for it. I can't even believe she didn't like it enough to keep - but what's one persons trash is another ones treasure.
I love it He loves it. It's a beauty as Grace said it was.
But, I have some reservations. I'm having a hard time imagining it sized to my chubby fingers lol. The photos online didn't concentrate on the band itself and the band is SO narrow, which I didn't expect and was trying to avoid even though I love the look. I'm very worried about how it might wear over time as I tend to be hard on things. I'm not the kind of person who takes their rings on and off daily - once they are on, they are on except to clean. I have concerns about if it is too delicate looking for my short, thicker finger.
But again, I love it.
I tried taking photos this morning but since I was doing it on the sly (BF has put it out of the way for safe keeping until we decide what we're doing) the photos didn't come out quite a clear as they could have if I'd use my Nikon. Cell phones are not meant for that kind of close up work LOL.
Anyway, here's a couple of cruddy blurry photos. I am a much better photographer than these show! Please do not look too hard at my fingernails OMG. I had been doing gel manicures for a few months because I had a lot of events to go to and well, let me just say that if not done right, getting it off can damage your nails more than you would think. Which happened. Hoping by the time I am officially given this ring that they will have grown out
Opinions gratefully accepted!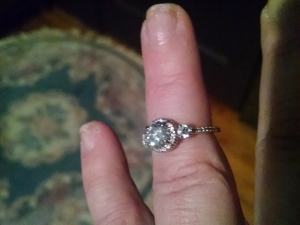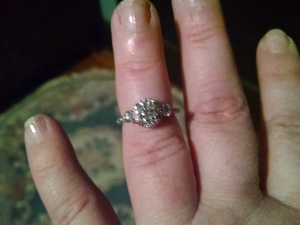 Laurie