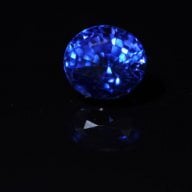 Joined

May 5, 2005
Messages

348
I'm really interested in what the precision cutters think (and I would adore it if you posted pics of stones you've done in the past that follow forum rules and aren't for sale etc. etc.), but also in what all the consumers think.
Gene made an interesting comment in
https://www.pricescope.com/communit...-for-precision-stones-worth-it-to-you.161782/
: he said that consumers by far prefer simple rounds/supernova ovals/cushions (and, I'm sure, asschers
) to fancy unique cuts.
This was news to me -- I think fancy cuts are really neat and I feel kind of like as long as I'm paying for precision cutting, I might as well get a design that no one else on the street is going to have. I have several gems from Uli just because I love the designs. One of my favorite non-Uli gems is cut in in the Jeff Graham "Mumble" cut that I absolutely adore (but I can't post it here because it's made up of a, um, let's say, reference material). I would love to have it in a natural CS material, though, and I always figured that the precision cutters weren't interested in doing something that was a little more wacky than a round or oval.
Anyway... now that I know this, next time I ask a lapidary about cutting something, maybe I'll ask if he can do a fancy sort of design.
(All this being said, I rather like some of Gene's simple-shape-but-not-entirely-standard cuts, like his Star 80, so maybe I'm part of the problem too
)
Here's my Uli garnet: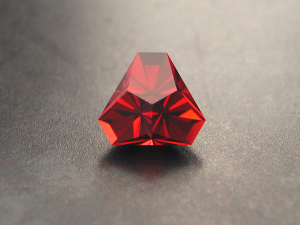 Umm... yeah, I like threefold symmetry, why do you ask?