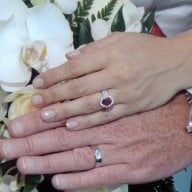 Joined

May 1, 2005
Messages

1,280
My one regret after my wedding was that my husband and I didnt get any ''portraits'' of the two of us. We had an amazing photographer, and some FANTASTIC pics, almost all photojournalist. I just didnt get good portraits of him and i (other than at the vegas sign). He even asked me during the evening if i wanted portraits, and i was too enthraled in my day...
this is my wedding pic post with the first photographers pics
ruby red wedding
So what we did, as vain as it sounds.... Was when we went to vegas a few months later, hired another photographer to do some couple shots around the four seasons (where we were married). I didnt wear my wedding gown but a cute laundry dress I found on clearance at Loehmans.
It was so much fun, and we got such a unique photo shoot, without the wedding day stress. I thought you all might be interested in a few pics! I call them my post wedding-bridal shoot!