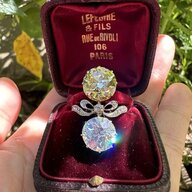 Joined

Feb 12, 2018
Messages

3,497
Thought this could be a fun game to play. Maybe it'll work and give people ideas they wouldn't have thought to try.

1. I'll start us off by posting an ingredient, and listing any dietary restrictions/allergies.

2. Anyone can respond with a recipe, either your own or from any source, that uses the ingredient as the star of that recipe.

3. Once a recipe has been provided, anyone else can jump in with another ingredient, and someone else can respond with a recipe. And on it goes!