Joined

Nov 19, 2017
Messages

3
This forum has helped me a lot at the end of last year when I was researching for an engagement ring, and want to add another data point to the wonderful store that is High Performance Diamonds.
My research for what engagement ring to buy began in October last year. Soon after I learned about the importance of cut, cut, and cut, and I narrowed my choices to stores like WF, Brian Gavin and HPD. In the end, I decided to go with HPD because there are many rave reviews about crafted by infinity diamonds (which HPD exclusively sells), and when comparing with the other stores, the prices is actually very competitive (I would say slightly cheaper). It seems like a no brainer to get something that has the best cut for a good price.
So then it began 2 months of sustained communication with Wink and Melissa to discuss and compare diamonds, as well as finding the setting that my gf wanted. Wink also provided some videos to show me what the diamonds actually looked like. They were patient and gave good answers to everything I asked. On top of this, I received some discount on the setting as well.
All in all I am glad that I went with HPD. My gf loves the ring and I am now happily engaged. Here is a picture taken by HPD.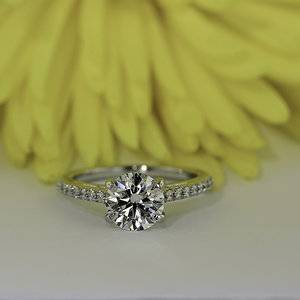 Here are some points that may help future visitors:
* HPD is safe and secure, offer legitimately best of the best diamonds - naturally, as a first time buyer (both ring and online) I was very nervous, but there is actually nothing to worry about. Melissa and Wink kept me communicated throughout, whenever I have panic attacks, and I am grateful to them for bearing with me for a few months.
Wink has a YouTube channel that is worth checking out.
* As an Australian buyer, you can save money by doing a wire transfer. I tried TransferWise first, however the money didn't go through to HPD (I did get the full refund from TransferWise with no issues). In the end I went with Ozforex (provided by ING), it was quick and with great rates (only slightly more expensive than TransferWise). I would recommend going with OFX as you can dealing with an actual Australian entity.
* You will need to pay GST if the ring is shipped to Australia. There is normally another 5% tariff on top for imported goods over certain amounts, but this is waived under some US-AUS trade agreement. HPD knows about this and can provide the appropriate documentation to enable the tariff to be waived