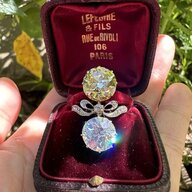 Joined

Feb 12, 2018
Messages

3,887
I think the problem with political discussions nowadays is that people confuse their freedom of speech with their sense of entitlement. While you have the right to say exactly what you think, everyone else has the right to tell you what they think of it. If your opinions can't withstand criticism, then maybe they weren't very good to start. Too many people don't understand this and complain bitterly that their rights are being infringed. Naw, you're not entitled to an adoring audience.
@liaerfbv
makes some pretty good points. It's not just PS though; American society puts more emphasis on tone policing than racial justice. I also thought seriously about leaving PS when I was put on a time out despite the racists on this board going unpunished, but how's that any different from anywhere else in the US? I'm not going to find racial equity and enlightenment on a jewelry forum.
I'm not sure I really care anymore whether political discussions are banned on PS. Maybe it's for the best.