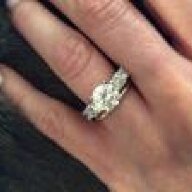 Joined

Dec 28, 2015
Messages

24
I posted a couple weeks ago about my 3-stone engagement ring that I "upgraded" as a Christmas gift to become a 5-stone. My original ring was a .43 center with .25 sides. I admit I knew nothing about diamonds when my DH and I on a whim stopped by our local jewelry store and asked them to help design something and pick out a new larger center stone. They designed a 5-stone ring with a 1.52 carat center stone, flanked by my original .43 on one side, with an additional .43 that we purchased and used my .25 sides. When the ring was done, I was not only disappointed with the stone we chose--a 1.52 carat EGL SI3--which I now know was a ridiculous waste of money, but the ring proportions looked out of whack and too wide for my finger. Plus, the ring was sized at 5.5 and it turns out I'm 4.5. Trying to remedy the situation the cheapest way possible, I thought sizing it plus getting a larger center stone would help the proportions and make it less wide, so I upgraded the stone to a GIA certified 1.66 carat hearts and arrows H S12, which I really love. However, the ring still is too wide for my 4.5 finger--the prongs are sharp and HURT when I put my fingers together.

And, the proportions still look wrong to me.
We now have just under $16K invested in this ring. (The new stone cost $12,840, though I got full credit for what we paid for the original stone. I realize now I could have gotten a much nicer, larger stone on-line, if only I had found this site earlier!) It is driving me crazy. I now have decided I need to go back to a 3-stone ring using my current 1.66 center and two of the sides. I found a beautiful trellis setting on
WF
and am thinking of ordering it and having my local jeweler set the stones. Here is a link to the setting:
http://www.whiteflash.com/engagement-rings/three-stone/3-stone-trellis-diamond-engagement-ring-1026.htm
My question is whether I should flank the 1.66 center with my .43 carat sides or the .25 carat sides. On my original thread, several posters suggested I do this with the .25s and use the .43s for earrings. I am leaning towards that option, but instead of making earrings, saving the .43s for an upgrade in a few years, maybe to a 2.2 center. In the meantime, I really love the
WF
trellis design, and it's only $1500, so that seems a cheap fix.
Would you please vote as to whether you think the .25 sides or the .43s will look better? I do want the center stone to stand out on my 4.5 hand, so I'm leaning .25. I'm attaching a few pics. Thanks so much!!
Here is a current shot from the top of my ring the way it is. You can see how wide it is: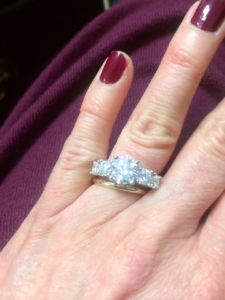 Here is a profile shot of my ring. I actually like it from this angle, but I think it was just not designed right, which causes the prongs to stab into my fingers: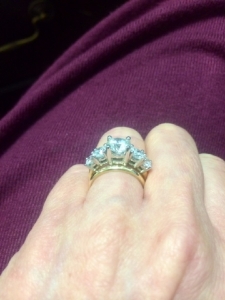 Here is a pic covering up the .25 ends, which gives you an idea what it would look like with the .43 sides.