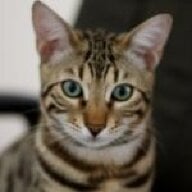 Joined

Jun 4, 2008
Messages

6,893
I''ve been thinking over the idea of getting a couple rabbits as pets in the near future lately (after seeing the Furry Babies thread

). I''ve been doing reading online as far as care, feeding, temperament, breeds, etc. but the thing is, I just really don''t know many people who have kept rabbits as pets. I''m hoping that the awesome PSers here with bunnies will stop by and tell me what it actually is like to have rabbits.
My situation is that I''m living in a 1 BR apartment with my BF. We have no other pets; if we get the bunnies, we probably won''t get any others until then pass away since I''d imagine they wouldn''t take so well to a yappy dog being introduced into their lives when they''re older! We''re going to be moving to NY in about a year and half. Neither of us has had rabbits before, although I have a Chihuahua back home and he had a golden retriever growing up.
BF is actually pretty receptive to the idea but he really wants to make sure we know what we''d be getting into and wants to do as much research as possible. In particular, he''s concerned about 1) do they smell? and 2) do they chew things a lot, and how can we stop that.
If we end up getting them, I''d prefer to adopt (although he''ll be looking for the floppy earred lops at the shelter) and get a bonded pair since we definitely want to get two if we get any. Also I think we''d lean towards getting young rabbits - not babies but also not adults - that are already litter-trained.
So can anyone tell me pros, cons, experiences, recommendations for where to look, what breeds (if any) to go for, males v. females, basically anything? I would appreciate it so so much!
Thank you all in advance!
- B.E.G.