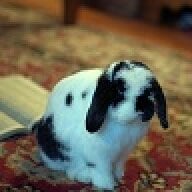 Joined

May 20, 2008
Messages

5,542
I need advice from pet experts!
I love having pets, but because of my high travel job, I can''t get a dog right now

FI is home every day, but he often gets home late so we need to stick with pets who don''t mind being left alone sometimes and don''t need to be fed or walked on a regular schedule. I currently have gerbils and as they get up in age I''m thinking about whether to get more when they''re gone or to get something else. I can''t get a cat as I''m very allergic and I''m not sure if a bird is the right fit for me.
What about a rabbit? Anyone ever owned one? What are the pros and cons? I like them because they seem much more cuddly and interactive than small pets like gerbils, but I may be wrong about how much cuddling they really enjoy. The gerbils don''t mind being picked up, but they won''t sit still for a second and they don''t like being petted. I''d prefer an animal that would actually like to held and interacted with.
FI is worried that they smell ... is that true? I''ve been around ferrets and I couldn''t live with something that smelly, but I don''t know where rabbits fall on the scale of smelly animals. Of course, cleaning up after them will make them smell less, but will there always be a rabbit smell in my house?
Thanks for your help!