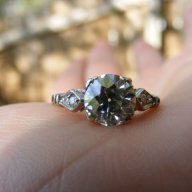 Joined

Jan 9, 2009
Messages

155
we have chosen a oec diamond ering. my fi wanted to have it gia certified. so the report came back today and we were a little disappointed.

when we had chosen the diamond it had read h color/sI
and now this is what the report says.

old european cut
7.70*7.79*4.84mm
color K
clarity I1
td 67.4
table size 47%
girdle-extremely thin to slightly thick
fl-none
cutlet large
polish good
symmetry fair
comments-additional clouding is not shown. surface graining is not shown.

any input?
i love the diamond and the setting. i have pic if it would help anyone to let me know if this is a good purchase.
i am happy with the color, it faces up very light. i tried on quite a few oec diamonds and noticed the warm color in others. while i do like that in a stone, i really liked this one for some reason.

the diamond is priced around 7.5K
should fi negotiate a lower price due to the grading?

thank you for any advice.