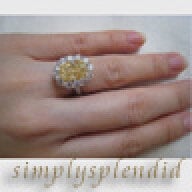 Joined

Nov 19, 2006
Messages

1,772
Hi,
I am looking at this purchasing this OEC over the internet. From where I live, there is no OEC

.
EGL Los Angeles Cert

Depth 65.1%
Table: 48%
Crown: 19.6%
Pav: 41.4%
Girdle: Very Thin to Slightly Thick
Culet: Medium
Polish: Good
Symmetry: Fair to Good
I have included some pictures which aren''t very clear. I am told that this OEC is fiery except that it is not perfectly round (which I am also told that is very normal for this type of cut). Would you please let me know if it is indeed so that it is most OECs are not perfectly round? I saw Facetfire''s beautiful OEC (which got me tempted) and it is very round.
Please let me know what you think.