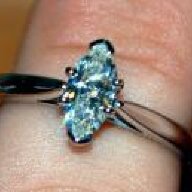 Joined

Jul 7, 2011
Messages

38
Hey guys,
I'm brand new here. I actually just found the site a few days ago doing a great deal of research on an engagement ring for my girlfriend.
I found a diamond that sounds great through UnionDiamond.com. It's a .51 carat Marquise. The rep I've been speaking to seems sincerely knowledgeable and helpful (She's GIA certified... or so her e-mail signature claims). She just sent me the EGL cert., and also a not-so-great picture of the stone. Below is a copy of the cert., the original picture of the diamond, a pic that I enlarged and added brightness and contrast via Photoshop (it added a great deal of yellow. I don't know if this is accurate or a PS issue), and a picture of a (not *the*) Marquise mounted in the ring I picked out. I'd LOVE your input on the apparent quality of the stone, and what you think of the setting and finished ring. The rep I've talked to said the picture does not do the stone justice (but yes, she IS the saleswoman! lol). The stone is selling for $400., and the ring was $3-something (I'm forgetting offhand). I wish I had more to spend, but mortgages and school loans SUCK!
Thanks VERY much in advance for in input you can provide. I appreciate it!