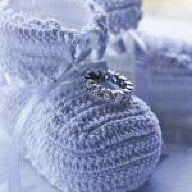 Joined

Nov 3, 2009
Messages

998
I'm just getting into pearls and decided to start with a couple pairs of studs-- 8mm blue Akoyas and 9.5mm Freshadamas. I emailed PP and was sent 2 pairs of each to choose from. I've read up a lot on pearls but am still very green. I'd love opinions on which ones I should choose.
(Based on the pics, I'm leaning towards the second pair of each set.)
Here's what I was told about the pearls:
"The first two pairs are the blue akoyas 8.0-8.5 mm.
The top pair is cleanest in terms of surface with a hint of rose overtone.
The next pair has the strongest luster with sharp silver-rose overtone.
However the right pearl has a slight blemish on the side.
We encourage customers to pick pearls with higher luster over surface cleanliness but
I wanted you to look at the options and choose which one you would like.
The bottom two pairs are Freshadama pairs 9.5-10 mm.
The first pair has silver overtone and the luster is soft.
The bottom pair has sharper luster with strong rose overtone."
Thanks!!