Greetings, all! Lurked for about a week and finally selected my ER. Thank you very much for your knowledgeable community. I joined PS today to share with you what I chose. I received this ring maybe an hour ago and this is my first diamond purchase. I welcome your expert opinions on my selection.
stone:
http://www.bluenile.com/diamond-search?saction=PAGE&startIndex=0#diamonds_pid=LD01695706
Stock number: LD01695706
Price: $984
Bank wire price: $970
Price per carat: $2,187
Carat weight: 0.45
Cut: Signature Ideal
Color: D
Clarity: VS2
Depth %: 68.1%
Table %: 67%
Polish: Excellent
Symmetry: Excellent
Girdle: Thin to Slightly Thick
Culet: None
Fluorescence: None
Measurements: 4.30 x 4.30 x 2.93 mm
Length/width ratio: 1
my apologies in advance for poor camera, and poor lighting.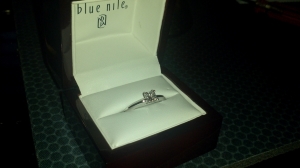 so how do you guys think I did? the setting was only 200 because I wanted the harder 14K white gold, and the stone was 984 for a total price of 1184 USD shipped. I hope she'll love it. her ring size is a Size 7.
Thanks, PS'ers!