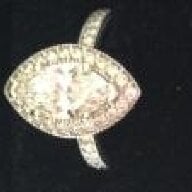 Joined

Jan 5, 2009
Messages

1,204
Hi everyone...
I know this 'mixing metals' subject has been talked to death, but haven't seen this one asked before.
I just got an upgrade e-ring, it is a vintage platinum solitaire with side baguettes. I have my mother's original plain white gold wedding band from her original wedding set, I had hoped to pair with the e-ring, but even after wearing them together for just a couple of weeks, I noticed scratches on the wedding band. I don't want to solder them together (I want to change up the bands once in a while), but I don't want to ruin the band by wearing them together. I can't buy a platinum wedding band right now either, it's just not in the budget, the e-ring was kind of an unplanned splurge (our 25th anniversary is this spring and I hadn't expected to find a ring so quickly)...
so my question is, as an alternative to platinum, has anyone paired platinum with a titanium band? Or even stainless steel? I am looking for an inexpensive band or stackers, to use until I can get a platinum band at some point.
Thanks in advance!