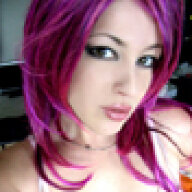 Joined

Oct 17, 2006
Messages

200
Hello everyone
Just after I think I have things figured out, I''m thrown another curveball
We''re doing two things right now:
1. Getting our diamond set in a tension setting for an E-ring!
2. Getting matching wedding bands that we both like!
1. For a week I''ve been reading up on the differences between Platinum and Titanium for a tension setting. I am horrible with decisions. I think that maybe Platinum would look a lot better finish wise, but now I''m hearing it scratches pretty bad. I also like the light white color of it.
Then there is Titanium. Stronger metal, and scratches less? I can''t help but think it wouldn''t look as nice as the Platinum. Or maybe the darker color would show off the diamond more? Or would it bring it down? I have a D/IF with strong blue fluorescence (.55ct) so I''m wondering which would look better with this particular stone!
Also, with the tension setting, I''d be getting two tiny melee put on either end of the diamond, on the outside of the setting. I''ve attached the picture of the setting I like below, if you can imagine....
Can you set in melee with Titanium? I read somewhere that this was not possible....
Here is a similar design. We want the one with the more squared off edges....

2. Wedding bands. We''ve found a couple of designs we like. I was trying to stick to Platinum, but now that Bryan has seen other materials for ''WAY cheaper than platinum'' he''s reluctant on the platinum thing. That and he has never worn jewellery, so he is thinking that the light weight of the Titanium is a better thing for him. Yet, if we were to get matching wedding bands, I''d want diamonds set in mine. He''d have a similar design, but no stones. With the other metals out there besides Platinum and WG, can stones be set in?
Also, would be worried about scratching....so then I was looking at Tungsten....
We''re trying to stick to the same material for our wedding bands....
My head is spinning....does anyone have any insight?!

....and I thought picking out my wedding dress would be more confusing....HA!