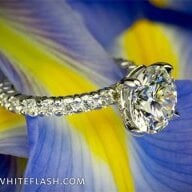 Joined

Jan 30, 2007
Messages

807
Hi everyone,
I know lots of people have asked this question before but I''m getting ready to actually have my ring made and I need to decide soon so would like some fresh advice.
I am going to be placing a 2ct princess cut diamond in a eternity setting from
WF
and I''m debating if I should go with platinum or 18k white gold. I''m not sure what to do.
Most of my friends have white gold rings and they love them and say that platinum is not worth the extra money when you can get the same look with white gold. My best friend has her e-ring and wb set in 19k white gold, hadn''t heard of it until she got it. She has had it for a year and she is a nurse and pretty hard on it and I saw it the other day and it looks great, very white etc.
When I spoke to the
WF
rep who is very sweet she told me that if I could afford it I should go with platinum as it will stay white longer and she also said that sometimes when you take things in to be rhodium plated it can have little bubbles on it after etc. Plus with plat if you bash it you don''t lose any of the metal with gold you do.
I checked on the setting I want and the diff in price is around $300-350 b/w plat and 18k white gold so not a huge budget buster.
What should I do?? What would you do??

I would really appreciate it if those of you who know so much more about this topic would advise. I have never owned a single piece of plat jewelery, never even handled the stuff, the
WF
rep said it is nice and heavy and that I would like it.
Thanks so much