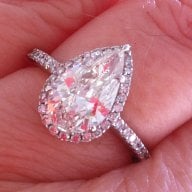 Joined

May 23, 2010
Messages

6,731
Here's the story; I was out in my yard, telling the yard guys to take out this tree/bush/overgrown monstrosity. It's about 15 feet tall and 15 feet wide, and it grows so fast that if I don't take it out, it will eat my yard. Actually, I've lost a huge area of my yard to it, and it's encroaching on my fruit trees which aren't producing because of the shade.
So, I am telling the yard men to take it all out pretty loudly, repeating it often, since they only sort of understand. After a while, I think they have it figured out, and I go inside.
My phone rings and it's my rear neighbor, who I've met once, while searching for my cat. I gave her my number long ago for emergency use when we were going out of town.
Her: I couldn't help overhearing that you're taking out (that tree-I'm not naming it, it's pretty distinctive to my area, which I don't want to disclose) and I'm hoping it won't cause a problem with my privacy.
Me: Well, I don't think it will, you have a huge buffer. Also, it's well within my property line, easily ten feet from the line.
(There is a huge buffer between our properties, I can't actually see her house, it's so covered with her vegetation which she never mows or trims in any way. As a side note, she has poison ivy that has covered and killed 20 foot trees in her yard. There are 3 bare trunks in her yard covered with nothing but poison ivy)
Then she spent about 20 minutes telling me how my tree gives her privacy. I explain that if she wants privacy, she can plant one of these trees and it will grow full size in less that a year (I'm not kidding, she's new and doesn't know the plants here), that her yard has a ton of trees and that no one can see past her 20 foot tall buffer anyway. And that it's in my yard. Completely within my yard (and within my rights, but I don't say that)!
So this whole thing has ticked me off, because I purchased my land specifically because it was NOT within a homeowner's association. My old neighborhood had a homeowner's and they were worried about people leaving their garages open, and I can't handle that. I can do whatever I want within my boundaries. I don't want anyone sticking their nose into my business, and if I didn't respect her property rights I would have reported the invasive plant (which is banned here and she can be fined for) which covers her entire back yard and that I have to keep beating back from my side. But I figure it's her property, if she (and the prior owners) choose to let it grow on their land, it's not my business.
I would never make a phone call to tell people, for 20 long minutes, what they can and can't do on their own property. Whatever happened to "mind your own business"?!!
Rant over.