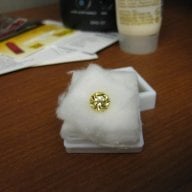 Joined

Apr 15, 2007
Messages

1,701
I got a newsletter email from Ed today. He is offering all pietersite on his website at 25% off. He is about to return to India in 10 days and can easily ship before then.
I''ve not seen this on PS before, but I think they would make some really lovely cabochon pendants or maybe even rings or a cool bracelet. I bet some of the etsy sellers could make some lovely pieces. The stones are super affordable for anyone wanting a little something new.
Seems the stones come from China or Africa and folks he knows provided him with the stones on his site from the African mine.
I emailed him asking how to buy them. He indicated that 25% would be taken off the price listed and he''d send a paypal invoice. He is a really nice guy. He was in Denver recently, but I missed him when I had to be out of town for a funeral.
http://www.kashmirblue.com/Coloredstones/Pietersite/pietersite.html
Check out this link. What do you think? Which ones interest you the most? I need some help picking a couple.