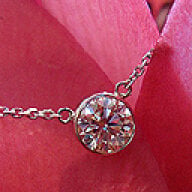 Joined

Oct 30, 2002
Messages

31,003
Well it's official, we're engaged! YAY! Here are some shots of the ring..I am still learning how to use my ridiculous digital camera and these are the best I could do between last nite and today, hee hee. No I'm not obsessed. I do have to say this ring blows away those pictures big time...it is SO incredibly WHITE and sparkly that it should be outlawed!

Last nite when I saw it for the first time it was in a restaurant and we all know how well diamonds respond to restaurant lights, this thing looked like it was ON FIRE. All I could do was stare and say 'WOW'. At least Greg says he said the same thing when he picked it up from the jeweler so we are in-sync on our initial thoughts.

The ring turned out pretty much perfect. My only thing is that I wanted a lower set head but because I wanted the wedding band to be flush against the e-ring, they had to raise the head on the band a little. It's a very dramatic effect but I have to get used to the heaviness of the ring *and* the high head now. Oh well, I'm sure I will get used to it.



Here are the specs:

Center stone: round brilliant G VS1 1.23c shallower cut stone set in 4 prong head, rated 2.3 BIC on the HCA (when we bought it, it was 1.5!). Stone lookes like a 1.35c due to the spread. Faces up pure whiteness, have gotten compliments on the iciness of it already!
Ring: Platinum setting, with 26 .03c small round brilliants 4 prong set around the entire band, eternity style, 2.5mm thick

Here is the picture! I cut and pasted a bunch into one file so that I could post them all at once. I am going to try to get more closeups later but I have to figure out the DC more.

Enjoy!