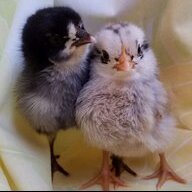 Joined

Dec 1, 2015
Messages

83
I just wanted to share my great experience with an ebay ring setting seller, frankjewelry. I decided to barter for a 14k white gold setting with F colored VS diamond halo ring with two side baguettes that would fit a 12x10mm stone. I told the vendor I would like to change the white gold to 14k rose gold and they complied. The price was set and after multiple ebay message exchanges, I agreed to buy the ring with the stipulation that they send out a picture before they send me the ring.
It took 3 days to settle on a price and details of the ring. From there, it took an additional 10 days before I got a picture of the completed ring done in my size too. Ring was sent out from China on Dec 21 and got to me on Dec 24th but I was out of town and didn't receive it until Dec 28th. It is now in the shop to get my budget unheated red/dark pink sapphire set in.
I highly recommend this seller as I was pretty tough on them since I was skeptical about a Chinese ebay ring vendor. I didn't find much information about other people who have dealt with them so this was a shot in the dark. The band on the ring is thin but the cost of the ring was definitely well priced and worth the extra time/hassle. I am actually surprised with how quickly this transaction was and how quickly the ring got to me. I know it's not a custom designed ring but I was still pleasantly surprised that everything moved along quickly. From bartering to finished product getting to me, with the holidays in between, it only took 21 days.
Please let me know if anyone else has dealt with frankjewelry from ebay and if frankjewelry is attached to other shops or if they are owned by other vendors on ebay too. I hope this helps anyone else who might be thinking about buying from ebay. It takes lots of research but with the help of pricescope and reading extensive forum posts, I am quite happy with this ebay purchase. Thanks everyone for being so active on here so that a newbie like me could get enough knowledge to get a good purchase and not get taken advantage of. Thanks again and hope this post helps!
Photo from seller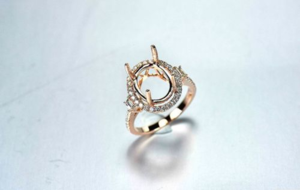 Ring when I received it with a Christmas card (don't know how to turn image around but I do know it's upside down

)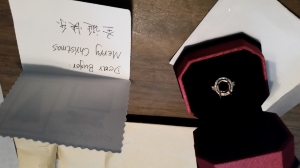 Ring in the box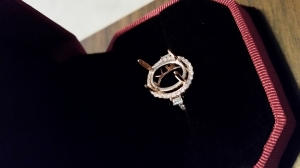 Ring on size 5 finger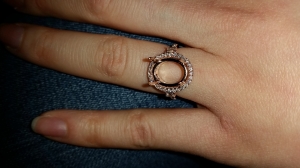 Side view and thin band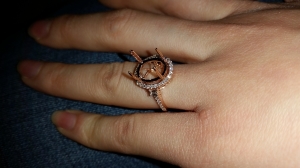 Ring gallery(?)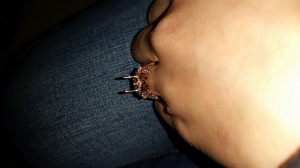 Ring with sapphire in it, unset. Hope to have claw prongs on it