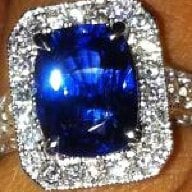 Joined

May 16, 2010
Messages

205
Hello ladies,
Per Maebelle's suggestion, I started a new post to put my pictures and such about my engagement ring we are having made.
The BF and I live in Los Angeles County (not to be confused with actually living in the city of Los Angeles) and since what I want my ring to look like is pretty specific, we went down the road of having it custom made. Luckily, his cousin knows a jeweler who works at the jewelry district in Downtown LA so we made contact with him shortly after we made our first official "trying on rings" shopping trip.
It was so thrilling! I could finally pounce on the pretty large sapphire rings and try on to my hearts desire and look all I want without feeling bad that the BF was just standing there being bored. I honestly was a little scared when we first went because with all of the valuable information I have been given from the fantastic Price Scope forum, I had never actually seen in real life what "zoning" was on a sapphire, or a "bowtie" or anything like that. I knew what it was
supposed
to look like, but I wasn't sure I would be able to pick those out in real life. But once we got to the store and started looking, the owner actually got involved after her heard me tell the saleswoman that I didn't want any beryllium treated sapphires and the most treatment I would accept was very little heat treating. When they also showed me antique cushion cut sapphires, I was so pleased to know that I right away could tell which stones were a little to purple or dark for my liking and how my heart skipped a beat at the gorgeous cornflower blue sapphires. I also could see right away what people meant by "bowties" and such. It really gave me a boost of confidence.
In any case, from that initial shopping trip I decided that I love a halo setting with notched edges, and I definitely DO want lots of bling on the setting. Here is a picture from the trip where I decided on the overall shape of the setting. (Note in the second picture she popped in a sapphire that fit just so I could see the overall effect.)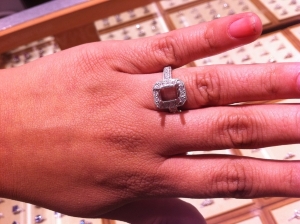 ETA: Excuse my giant vienna sausage fingers. I am a size 6 3/4 and I cant' believe how dry my hands were! Sorry!
The next two are with a sapphire in the size I want and a side view of the setting.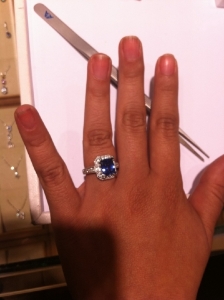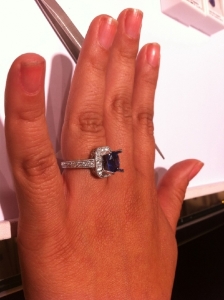 The next day the BF called up the jeweler, told him what we were looking for, send a couple of pictures and he went on to procure sapphires from friends from other shops in downtown as well as around the country so that I would have a variety to look at. So went, after deliberation I decided I wanted to see a few more, and then after THAT visit I choose my 2.5 stunner.
At the same appointment he took us to his cousins shop where they make custom settings. There were literally hundreds of waxes to choose from. However, we narrowed down to four waxes where I liked the top of one, the side view of another, the band of another and then I wanted a specific design on the basket and couldn't find it. When hope was almost lost, my darling BF pulls one out and says "I like this design" and it was the one! I was so happy he had found it, and I'll always remember that when I gaze at the ring.
So next he sent the CAD design, but you can't see where all the pretty diamonds will go because according to him "there were so many diamonds int the design it made my program crash" lol!! but I can use my imagination and I gave the go ahead on creating the gold. Here is a shot that pretty much shows all the angles. Clearly the prongs won't look like that and it will have diamonds everywhere.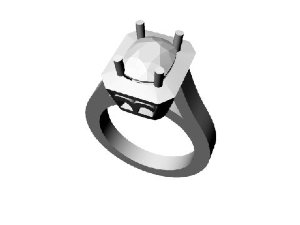 So Tuesday we will go and see the gold and once I approve that, I am not allowed to know anything more about the ring.
It's been such an amazing experience and I can't wait til it's all mine!!