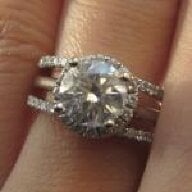 Joined

Nov 13, 2011
Messages

9
I'm posting this because I couldn't find pictures anywhere on the internet of what happens to a clarity enhanced (fracture filled/Yahuda) diamond after years of normal wear.
I had a 1.3 carat G SI1 clarity enhanced diamond for just over 5 years. I should mention that I don't normally remove my wedding jewelry but I'm also not particularly rough on it. When I first got my engagement ring, I thought it was the most gorgeous, sparkly thing I'd ever seen--I was only 23 when I got married, and at that time no one I knew had anything close to this size stone. Unfortunately, after several years when more and more of my friends got engaged, I began to notice that my stone appeared noticeably dull and milky compared to theirs. There seemed to be new inclusions in it (was I crazy??), and it didn't even look like the same stone that was photographed in my wedding pictures.
After doing some research on clarity enhanced diamonds, I realized that this transformation was probably due to the glass/silicone "filling" falling out. I was devastated and had no idea that this could happen with normal wear. And I was not about to ship the stone back to Yehuda or any other company to have it re-filled if it meant I'd have to do it every few years! I'm also kind of attached to my wedding jewelry so that didn't help.
The last thing I ever want to do is become a high-maintenance brat, but eventually my stone bothered me so much that (conveniently around the time of our 5 year anniversary) I told my husband what I thought had happened, and insisted we take the ring to a jeweler and compare the center stone with other diamonds. He was shocked too when he realized what was going on and replaced my center diamond right away with a natural unenhanced stone (same size, color and clarity as the original). Here are the before and after pics of my ring (the diamonds in the halo are all untreated)--hope this helps someone who might be considering buying a CE diamond in the future!
(FYI my ring finger is about a size 3, the center stone is 1.3 carats (G/SI1/H&A), and there are 22 points of diamonds in the halo. I tried to get similar pics/lighting/angles of the two rings but it was hard since they were taken several weeks apart :/)