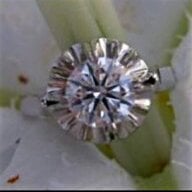 Joined

Nov 17, 2009
Messages

2,364
So i went today to my appointment for the fitting of the gown that i''ll be wearing at the wedding party! We waited until three weeks before the big day (28th of May), because i was dieting and i wanted to do the fitting when i had reached my weight target! Phew...i finally got rid of those extra eight pounds...
Now that i''m done with dieting (i''d like to lose another four pounds but i''m afraid that it will make my face look extremely thin and...old

) i''ve tried the dress on and it is big, so we need to make it tighter around my chest, my hips and waist. They''ll also finish the hem and adjust the straps.
Brrr...i''m nervous...

What do you guys think? Be honest