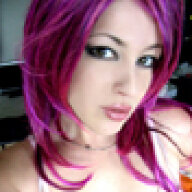 Joined

Oct 17, 2006
Messages

200
Heya everyone!
I was so excited when I went to
Good Old Gold
to see my diamond, that I forgot to take pics! DOH!
Fortunatly, Jonathan was kind enough to take pictures for me! What a sweetheart!
Not only that, but he even used my diamond in a video to compare mine to one of slightly lesser quality cut.
AND there's a vid of just my diamond as well....hooray!
So here, I finally have something for the show off section....wheee!
Video of just my diamond is at the bottom of the videos on this page:
http://www.goodoldgold.com/video/
Cat's .55ct D IF
The one comparing the two is two above, starting with the word 'Question' in bold
....and now for some pics!
Link to diamond:
http://goodoldgold.com/diamond/2597/
And the tension setting it's being put in....minus the band in the pic....
It's by Gelin & Abaci
Anyhoo, thanks for looking, and lemme know what you think!
I promise to get some cool shots of the fluorescence and setting as SOON as it's in my possession