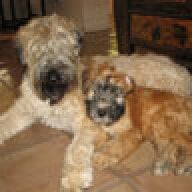 Joined

May 21, 2006
Messages

551
Hi everyone!
Since you''ve been so helpful in the past, I thought I would call on your expertise again...
Here''s the deal. FI and I are getting married at a cultural center that has a beautiful musem/gallery. We have decided to pay an extra fee so that, prior to our ceremony, our guests will be able to have a private viewing of the exhibits. We are going to have an insert with the invitation letting people know... Question is, how do I word it so that people realize that they have the option to join us, but that it''s not an official part of the day??
I was going to write:
**************
Please join us prior to the ceremony
for a private viewing of the
_____ Gallery and Exhibition
5:30 PM
Wedding Ceremony at 6:30 PM
_____ Courtyard
Reception immediately Following
______ Ballroom
************
Problem is, FI thinks that people may feel like they are obligated to come...
He suggested something like, "Please fee free to join us...", but I''m worried this is a little informal...
What do you guys think???
THanks!