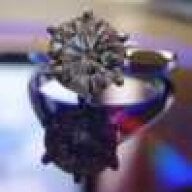 Joined

May 27, 2008
Messages

5,455
Woo-hoo! I''m giving SERIOUS thought to spending some moolah, and soon! I haven''t really bought much of anything since buying a house in November, and fiancee and I just got a nice tax return. We''re spending most of it on practical things-- lawn mower, fencing in our yard, etc. He bought a few toys he wanted and told me to get something for myself too......


He
is
the one making the bulk of the money now (I supported him through school), so I''d like to not be
too
selfish about it. I REALLY do not want to spend more than $1K, but the less, the better.
The choices:
1) .25 ctw studs from
WF
(four prong ready set to go)
2) same thing except in .50 ctw
3) .50 carat pendant (AGS0 M color with strong blue fluorescence) Keep in mind that I''m a big believer in well-cut low color stones, especially ones with strong fl.
4) Go in a totally different direction, maybe a RHR.
What do you ladies and gents think?