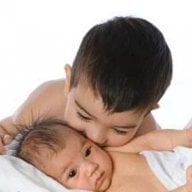 Joined

Apr 24, 2004
Messages

1,464
So as not to hijack the pregnant p''sers thread, here''s one for us new mums to share our experiences, post any questions and support each other through the joy, trial & tribulations of motherhood. There is certainly no manual for this, and I am learning everyday as I go along. It is not all peachy as I''ve found out, through sleep deprivation, dealing with reflux, amongst other things, but it is so fulfilling. Everyday I look at little Button and I am in awe at what hubby and I created, this *perfect* little boy who has brought so much joy to our lives.

For "experienced" mums (and dads!!), please share your tips on common issues like sleep settling, breastfeeding, colic, reflux etc etc!

There are so many different types of parenting methods, and only you will know what works for you and your children. Please share, and not judge!

I will kick off by asking for tips on sleep settling, and whilst I don''t want this to turn into a ferber vs non ferber debate, I would appreciate real life experiences on the different ways you have sleep trained your child, what age did you start, how effective it was, and if given the opportunity again, would you do the same thing or try something new?