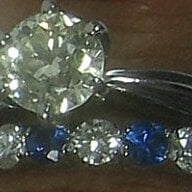 Joined

Jul 31, 2008
Messages

325
Today, I went back to the same jeweler I mentioned in my other thread. I was feeling good after both of your thoughts. I needed some charms removed, a ring guard, my rings cleaned, a necklace''s chain removed and a new one placed on the charm (I brought in an old chain).
In under 30 minutes, all of this was done. The jeweler let me play with the rings, talked about a made to order ring, and he told me how cute my daughter is....which is true!!
I left the store and thought, OMG, I didn''t pay for any of this work. So I went back in and he said,"No charge". And to me that is worth a lot. With so many businesses going under, I feel good about going to a local person. I feel lucky I know someone I can trust AND I got to play with pretty rings today!!

Thanks for talking me off the ledge the other day. Sending 100 facet hugs your way!!