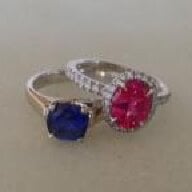 Joined

Feb 29, 2008
Messages

4,837
Skippy,
I am hoping I will pass the 3 hour as well. I know the 1 hour false positive rate is high just from working in the NICU/nursery during residency and seeing all the OB records with failed one hours with normal 3 hours. I am so hoping I fall in the camp, for my sake and the twin's sake.
There is a store in Austin that pretty much has all the twin strollers on the market that I am interested in. I am planning on going there the weekend of my 20 week US (which is June 5th). We have an REI in the local area, so it should be pretty easy to check out the Bob.
Neatfreak, nice to see you. I can't believe your twins are already 4.5 years old. I still remember the picture that was posted of you and them as newborns in the hospital. Time flies!
Pave, thinking of you
.