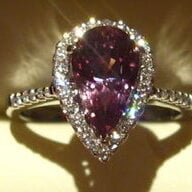 Joined

Jun 29, 2008
Messages

10,224
Hi Isabel
My jeweller has confirmed that he can make rings very similar to Cellentani''s gorgeous ones from ShopNBC. They have confirmed that they will ship worldwide also. They can make it in a variety of metals:-
18k white gold
18k yellow gold
Palladium
Platinum
You can also choose to have the same colour and grade of diamonds as per Cellentani''s which I think are G-H and SI1(?) or you can upgrade. The size of the diamonds can also be made bigger (obviously this will affect the cost) but Cellentani''s are 2.5x1.5 baguettes and 1.6mm round brilliants. I actually like the full (all the way round the finger) look they''ve put together but obviously that will impact on price!
I think they''ve had fun playing with the design today and can also add coloured stones (either as the round brilliants or the baguettes) but I have no idea what the coloured gemstones would be.
The only difference between Cellentani''s ring is that they won''t use a shared prong. They are worried that the edges of the baguettes would be too vulnerable and as you''re not on their doorstep they want to make sure that the diamonds won''t become loose for you.
They''re doing the costings on Monday for the same size ring as Cellentani and I''ll let you know then. In the meantime, here are the pictures they''ve sent me.
This is their website (which really doesn''t represent even a tenth of what they do but it has their contact details if you want to go ahead
http://www.diamondgeezer.com/
I would just like to add that I am in no way connected with this company but am simply a very happy customer and they''ve made tons of pieces for me (including my yummy pear shape diamond with halo ring that I posted recently)!