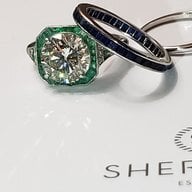 Joined

Mar 7, 2016
Messages

394
@Mamicee
I think you were looking for a lab-created Pad and not sure if you have had any luck. I am still watching Gene's site and was about to ask alternative lapidary if they had anything in the pipeline when I found Geolite. I think a few PSers have bought from them but the threads are hit and miss.
Overall, they have a huge selection and the prices are very reasonable, their website is sort of a pain, you have to click on links and open them one at a time and there are only single photos. Of course the stones I loved color wise were all sold but I did email them and asked to see additional images of other stones. I am waiting on a video and hand comparison and Deborah just emailed to tell me that they got a ton of new stones in and they won't be posted til next week. But she thinks there are a few in the color I have been looking for (24203 if you wanted to see what I was going for.)
Just wanted to let you know in case you haven't found anything yet. And of course I will post here when I finally get some photos. Now I am off to figure out what the heck these sizes will mean on my hand.