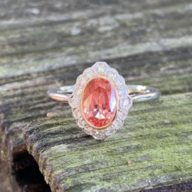 Joined

Jan 26, 2019
Messages

364
I've purchased three pieces from Diamonds by Lauren (DBL) and each has impressed me with the quality that has gone into making them. Working with David, the owner, has been very easy and he is extremely helpful via email. David was able to provide additional pictures of each piece upon request and they have lots of pictures and videos of the rings on Instagram and Youtube. I found this is very helpful when purchasing online.
The last piece I purchased was a yellow diamond ring to honor my MIL who's favorite color was yellow. I had 2 rings in mind and was debating for a few months. I was able to ask to see videos of them on Instagram to get an idea of the look. When I was finally ready to purchase I could not make a trip to NYC but I requested that David send me pictures of the two rings compared to each other. He was able to show me how they looked on a hand compared with each other and it really made purchasing this ring so much easier and I was confident in my decision. The ring shipped out overnight and the next day it was on my finger! David was able to have the package held at my local FedEx location which was so helpful with my work schedule. Of course it was gorgeous and well crafted!!
My first purchase was an emerald ring, as my birthstone is emerald, this was for a milestone birthday gift to myself. I was also wanting a Colombian emerald specifically with minimal treatment. I was able to set up a payment plan through layaway which was great. While I was paying it off there were some stud emerald earrings that would have matched my stone perfectly! David offered them to me before listing on the website when I asked about the stones, as I had seen them on their Instagram. When I received the earrings they were beautiful! Unfortunately when my ears were pierced it was done too low on the lobes so only certain earrings look good on me. David was very understanding when I asked to return the earrings and sent me a mailing label and instructions on how to return through UPS. There was a 3% restocking fee which I was perfectly aware of as it is listed on their site and in the order, just keep this in mind. I was able to apply the return of the earrings price to my layaway for the emerald ring, overall extremely smooth return process so I know that I can confidently shop online with DBL and not have to worry.
Overall I've had a really good experience with DBL and their team. I would definitely recommend working with DBL especially if you are shopping for colored diamonds or that special engagement ring!