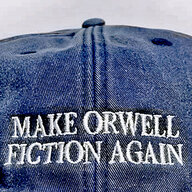 Joined

Apr 30, 2005
Messages

32,284
Don't think too much.
Answer with your gut.
If you think too much you may get analysis paralysis and not be able to answer.

Each side has tried to make the terms con and lib dirty words.
Ignore that BS and just answer.

I doubt anyone is 100% so-called liberal or conservative on every issue, fiscal, social, etc.
... but I think all of us swing one way more than than the other ... and that's the way you should vote for this poll.

I intentionally gave only two poll choices, and no Other.

I think we may have polled this before but recent threads make me suspect it's time for an update.