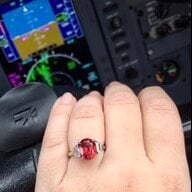 Joined

Jun 5, 2011
Messages

1,298
My family is going to receive one of the very best blessings, a new sister. My brother has decided to propose to a lovely girl. I am ecstatic for both of them. He is not much for internet forums, but luckily for him I have been a pricescoper since 2003 (I used to have another name but lost the login years ago…) and have a good sense of who to work with on various jewelry purchases. In August I purchased a pair of 4.52 tcw studs from
James Allen
and the experience was excellent, as are the earrings.
The bride to be is a very low key sort of girl. Presently I have never seen her wear any jewelry. Unfortunately this meant my brother did not have any clues to work off of. He wanted the ring to be a surprise but since he wants her to be happy he decided to get the basic of her preferences. So they got her ring size and looked at ta few of my colored stone rings to see what shapes she liked and disliked. The bride liked ovals and pears. After some consideration it was determined that a vet was better off with something that would less likely to catch on things or poke patients. Ovals were the goal.
Once we knew what shape to look for it was time to find the right vendor.
James Allen
had the biggest selection available and their information was in a format that was pleasant both for a gem hound and a jewelry novice to review together. While I may love jewelry, my brother is not quite as obsessed as I am and I think having the videos of the stones from all angles and being able to zoom them in and out was a big comfort to him. While many of us love the
idealscope
photos, I can see how those images being stationary makes their information less tangible.
R had narrowed it down to five oval diamonds which appeared to meet the parameters of what he wanted. We reached out to the folks at
James Allen
to get their impressions of each the diamonds. Connie at
James Allen
pulled all five ovals and then sent back her notes on each and a recommendation within a matter of hours. After a discussion of Connie's notes R choose to go with Connie's recommendation on the diamond.
R and his girlfriend are both understated so the setting needed to reflect their classic tastes and be practical to wear daily. Again
James Allen
does a wonderful job showing the customer what things will look like when they are combined. You can click on the settings and select the shape of center stone you are considering and it will show you previous rings with the; carat weight, color, clarity of the stone in that setting as a 360* video. I think that is very helpful for folks who new to purchasing jewelry. It allows you to have a solid idea of proportions and how high or low the setting will be once completed.
R made his choice on the setting and placed the order on December 16th. The setting is a simple classic setting that she should be able to wear while working or playing.
Here are the details that y'all are most interested in.
Oval Center (GIA Grading Report)
Carat Weight: 1.05
Color: E
Clarity: VVS2
Polish: Excellent
Symmetry: Very Good
Fluorescence: None
Dimensions: 8.21x5.77x3.39
Setting Information
Tapered Baguette Diamond Ring .25 ctw
Platinum Size 6.5
Inscription in script font
The ring is due to be shipped no later than 12.30...I am sure we will all be on pins and needles until it arrives.