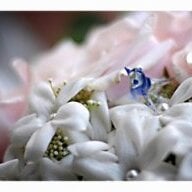 Joined

Oct 12, 2006
Messages

527
that little girl that started reading wedding magazines since I was old enough to walk... (seriously.. I am NOT kidding.. I was reading Martha Stewart weddings since I think it began!! way before marriage was even a concept in my mind.) and here I am... going through the process of having this amazing day featured in a magazine or two... sheeesh..

Yes... you read that right... Hubby and I are going to be featured in Emerald Coast Weddings!!! I got the email from my florist yesterday!!! They are going to tell our entire love story.. start to finish... first date to beautiful wedding!!!

I am just stunned!!! My planner had mentioned they were going to pursue the magazines for our wedding.. but I didnt think anything of it... now.. I am just beyond excited...We get to share this with the whole world... amazing.

Ok.. just wanted to share my pure excitement.. I will keep you all posted!!!

P.S. Thank you ladies for so many ideas that went into planning all this...