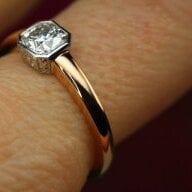 Joined

May 1, 2007
Messages

3,024
Please, somebody help us! We adopted AJ three years ago, and he was three years old at the time. He's a big fella - 14lbs when we got him. I free-fed our other two cats, just kept their bowl filled (dry food) and they ate when they wanted and how much. Never had an issue with their weight.

AJ started gaining weight right away and knew no limits with his food. So I started just giving him his servings (again, dry food - he hates wet) in the morning and at night. He went up to 17lbs! And I did a lot of research to give him a quality food. Anyway, not good. Turns out I was giving him too much. Worked with the vet to figure out what amount he should be eating for the food I was providing (less than 1/4 cup vs. the almost-one-cup I had been giving him), and he's back down to 14lbs. But he starting meowing more constantly, and LOUDLY. For at least an hour, sometimes more. Starting at 5am. And then all over again around 4pm.

Okay. Got an automatic feeder so that we didn't have to wake up to feed him. Still meowing... AFTER he eats! And again in the afternoon. Tried setting it up so that he got half in the AM and half in the PM (and since he's getting so little, added a tiny bit more to each). Nope. DEMANDING, annoying, constant MEOWING.

Did some research. Have been making sure to give no reinforcement to the meowing - don't look at him, don't talk to him, and don't give him more food or treats (never did that one anyway, but we would sometimes verbally respond or look him in the eye and ask, sorry tell, him to stop). I have tried the air compressor - no dice, but my poor dog was shaking in her boots so I stopped that right away.

UGH! I'm now trying wet food again to see if that somehow satiates him better. He is not having it. I have tried some different dry foods to see if more protein sustains him longer. Nope, nope, nope.

He's been meowing for three hours straight. I have been isolating him when he starts up, and letting him out when he is silent for more than say 20-30 seconds. Soon as I let him out, he's back to yelling at me.

I'm at my wits end. Anyone got some ideas?!

PS - This has essentially been going on for the three years we've had him. It's not a recent thing where I just haven't given it enough time.