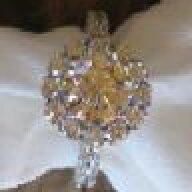 Joined

Feb 7, 2007
Messages

174
I'm looking to upgrade my wife's original engagement ring and am hoping to get something close to 2 carats, <2 on the HCA, G, VS2 all for around 20k give or take a little. I started out looking for H&A stones in the 1.8 and 1.9 carat range but nothing's showing up in the search, so I expanded my search to non AGS 0 stones.

This stone looks good, but I'd like opinions on whether or not it's good for the price or if I should have a vendor do a specific H&A search for me. I'm not in a hurry, so I can wait or jump on this stone if the consensus thinks it's a great deal.

Round brilliant, G, VS2, 1.99 carat, GIA cert, HCA of 1.7
Depth 62.4
Table 57
Crown angle 37.5
Pavilion angle 40.2
Polish very good
Symmetry Very good
Comments: "Additional clouds not shown"
No culet
Faint fluorescence
Price: $20,200

Any comments and suggestions are welcome.