So I'm getting a custom made engagement ring made. I'm incorporating portions of my grandmother's ring from 1946 into it. Unfortunately the 1946 ring has been worn down so much that only the small (2.5mm) round diamond can be salvaged and some crosses from the shoulders will be transplanted to the new ring. My Fiancee really likes dark cushion cut sapphires so I'm going with a 3 stone set.
The ring i'm going to have made locally is going to be a 3 stone set with a 5-6mm center stone cushion sapphire and then 2 round 2.5mm (1 my grandmother's stone) on the side and then the crosses lifted from the original ring. I know it would be cheaper to go with completely original, but I feel like the continuation is somewhat sentimental. So i'm looking for a 5-6mm cushion cut darker (not pitch black) sapphire to use on my wring. The local jeweler's price for .85 ct stones 5mm stones is $1300 and $2500 for a 1 ct 6mm. They seemed nice, but not outstanding stones from what I could see. I would like to get the best stone for the $ that I can for my Fiancee. My budget is up to 1500, but that is stretching it.
I have educated my self as much I can in a short period of time. Prior all I knew about sapphires were they were pretty and hard stones
. So any advise/ info would be great! Thanks!
I hear good things about Andrew Gulij This one seems a little less saturated then what i fell is optimal, but the darkness is about right for what we want. I think the B value was about 114 for this stone. I'm little concerned on 2 things about this stone. The H/depth ratio is .61 which is on the edge of the optimal .85-.6 ratio to avoid windowing, However from this brief picture it, my untrained eye doesn't see any windowing and the brilliance looks pretty good. Also I haven't seen many Portuguese cuts before, so wondering about opinions on the smaller facets.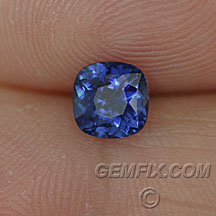 http://gemfix.com/gems/sapphire-blue-1206-cushion-portuguese-style-1-11-cts
We kind of liked this stone from GemsNY. I'm a little leery about these as I'm not sure on the cuts or if there is windowing. Is there color zoning on these stones too? Seems like this one is a bit on the other end of the scale of ratio with a .86 width/height ratio.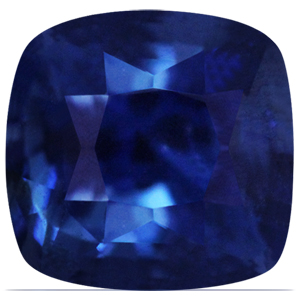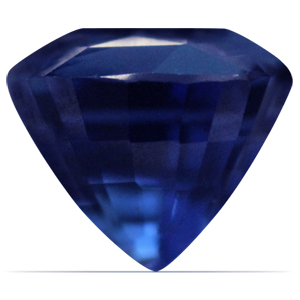 http://www.gemsny.com/loose-sapphires/1.22-Carat-Cushion-Sapphire-SU43349KCU/
I'm also looking at
James Allen
's stones. I wish they gave you a little more information such as grading and origin.
This stone looks pretty well cut to my eye and decent proportions
http://www.jamesallen.com/gemstones/blue-sapphire/1.00-carat-cushion-sku-15871
This one has nice color, but seems a tad shallow at 6.2, 5.4/ 3.3. But seems to flash quite a bit which is nice
http://www.jamesallen.com/gemstones/blue-sapphire/1.02-carat-cushion-sku-17453
These ones I'm considering due to the increased size but i'm a little leery to to things the my uneducated eye detects:
This one has a bit more size. But is the middle windowed? Also am I right detecting some chips or something in the cuts?
http://www.jamesallen.com/gemstones/blue-sapphire/1.58-carat-cushion-sku-16570
Decent size and cuts, but maybe an occlusion in the upper right? and the bottom right crown there is some weird pattern on the surface. Not sure what that is about.
http://www.jamesallen.com/gemstones/blue-sapphire/1.48-carat-cushion-sku-16569
This stone totally scares me... Does this have a large crack on the bottom right? Would make me wonder if the stone is unstable
http://www.jamesallen.com/gemstones/blue-sapphire/1.16-carat-cushion-sku-16861