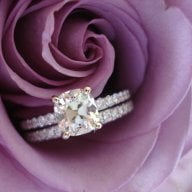 Joined

Sep 23, 2011
Messages

579
What do you think of upgrade policies, and, in particular, the one below? I have noticed on here that some well-liked PS Vendors have them. However, only certain diamonds qualify for upgrade at
Whiteflash
, for instance--ones outside of my low budget. Also, I don't think every vendor offers 100% of the purchase price toward the upgrade, or requires that you spend a certain amount before you can trade up.
There is a beauuuutiful jewelery store next to where I work. They have designer settings that I love and they have more variety in diamond shapes and sizes than I've ever seen. And they have an upgrade policy that is really appealing to me!
http://www.genesisdiamonds.net/about-us/guarantees.html
At Genesis Diamonds we offer a lifetime upgrade for a diamond you buy from us. If you want to trade it in later, we'll give you the full amount of your original purchase towards the purchase of a new diamond of greater value. You do not have to double the purchase. You only pay the difference. Trade your $5000 Genesis diamond against a purchase of $5200 and pay only $200. Here's the best part; trade your Genesis diamond after one full year and receive an additional 10% appreciation for your diamond. What a great investment! Your $5000 Genesis diamond is now worth $5500. Your Genesis diamond can only increase in value and we pass that on to you, our valued customer! Genesis has the best trade-in policy anywhere in the jewelry industry, GUARANTEED! * Cannot be combined with any other special pricing offers, is not transferrable and applies only to the original owner. Genesis reserves the right to alter its policies to be consistent with market conditions.
They also offer other benefits I am attracted to.
http://www.genesisdiamonds.net/policies.html
From the little time I spent in there, they seemed to have good prices. Example: Verragio insignia 5003 setting was $2500. I also wrote down some specs of a .69 EC and the price was a few hundred lower than
Whiteflash
,
Blue Nile
, etc.
So, the question is, what do you think of such an upgrade policy? Is this a good idea to invest in? I cannot afford my dream RHR now, but I could buy something smaller c.w. and upgrade every year or so, gradually getting a bigger/better quality center stone. If I changed my mind about which diamond shape I prefer--just upgrade and get a new one. The only problems I see with this idea are if the vendor went out of business or the fact that I may have to spend extra on a new setting to accommodate a new diamond whenever I upgrade.