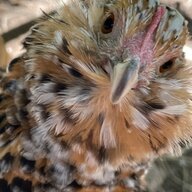 Joined

Nov 4, 2011
Messages

275
So I bought a ring on bistro mostly for the semi-mount, and it came with a largish (8mm round) light green sapphire. The ring and sapphire come from Brilliant Earth. My question for you folks is -- do you think it is worth trying to recut this sapphire to render it attractive?
Negatives: cut and color. Cut appears to be terrible. There is a huge tilt window in every position but straight up and down. The color is quite desaturated. In indoor light in the evening the color looks like a mucky cream without the rainbows of a warm diamond. Whenever there is sunlight it is quite a bit more attractive (either yellow, green, or orange), but still has dark window in the middle.
Positives: It has a pretty minty green color in sunlight if one can ignore the tilt window. It responds to UV light with a wonderful pinkish orange, so sometimes, in just the right sunlight, it looks green with orange sparkles. Sometimes it even appears to color shift to orange entirely. It is large enough that there may be something left after a recut.
See pictures and let me know what you think... Jerry Newman thinks he can improve it, but my question is, will the improvement be enough?
Note that I couldn't get a picture of the orange incarnation.
If nothing else, I would love to hear if others have had a sapphire with this shift between green and pinkish orange.